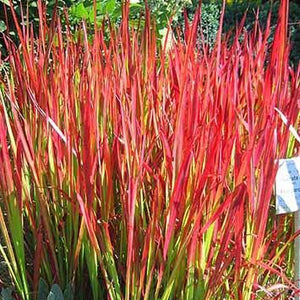 Simply striking, the fiery red flares of Japanese Blood Grass will bring drama, intrigue and unforgettable accent to any backyard garden or landscape design.
- Fiery red tips that intensify in color from spring through fall
- Adds eye-catching movement to garden
- Great for containers, patios, and mixed border landscaping
- Drought tolerant
Visually striking
 Japanese Blood Grass is the ultimate showstopper when it comes to garden aesthetics.  The deep red color is simply breathtaking.  As a gardener, you'll enjoy watching the color intensify throughout the season, starting as a slight red tone in spring, strengthening to a more prominent bright red in summer and then deepening to a wine-colored maroon in fall.
Adds eye-catching movement to the landscape

Reaching up to 2 feet in height, the highlighted red blades of this ornamental grass are truly eye-catching.  Even a slight breeze can sway Japanese Blood Grass to create a soothing visual movement in the landscape.
Super low-maintenance
This plant is a great choice for low-maintenance gardeners.  It is drought tolerant, meaning it won't require much watering.  This ornamental grass can endure well-drained soil areas in full to partial sun.  Besides the removal of dead foliage in spring, this grass can fend for itself.
Ideal for a variety of gardening styles

Whether used as a border, groundcover or edging, this plant will perform.  It's also suitable for containers and rock gardens.
Enhance your setting with the addition of Japanese Blood Grass to your garden.  It won't disappoint!